qa =1
Pass4sure Questions & Answers (Testing Engine)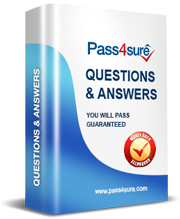 Pass4sure Questions & Answers (Testing Engine) is the cutting edge approach to learning and certification exam preparation. Arranged into interactive questions and answers (Q&A), exam preparation materials from Pass4sure are some of the best selling IT learning materials available online.
At Pass4sure, we guarantee that all Questions and Answers coverd in our Testing Engine are fully updated and identical with the actual certification exams. All changes and updates introduced by certification exam vendors are immediately coverd into our materials. Therefore, with Pass4sure Testing Engine, you may rest assured you get the latest questions and answers which will cover exactly what you will be asked in your certification exams.
All answers featured in Pass4sure Testing Engine are verified by experienced IT trainers and technology professionals, so there is not a chance for you to get a wrong answer.
Pass4sure Questions & Answers (Testing Engine) Benefits:
Questions cover the same topics as the real tests
Correct answers, verified by industry experts
Detailed explanations (when available) to ensure full understanding
Just like the real tests: drag and drop, multiple choice questions
Simulates real exam environment
Updated regularly, always current
Backed by our GUARANTEE
See Samples of Q & A products
Pass4sure Testing Engine the tools and knowledge to pass your upcoming IT certification exams. As long as you study these questions & answers and spend sufficient amount of time practicing with Pass4sure Testing Engine, you will easily pass your upcoming exam(s).
Pass4sure Questions & Answers