labs =1
Pass4sure Practical Labs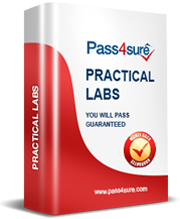 Pass4sure Practical Labs allow for a realistic simulation of IT Certification lab exams. These materials contain real lab exam questions, scenarios and tasks, complemented by comprehensive answers that have been verified by certified and experienced professionals.
Many IT certification providers, such as CompTIA, Microsoft and VMware, employ the technique of lab exams as an effective way to check candidates' knowledge and understanding of computing concepts. This is why most candidates find lab exams to be unexpectedly difficult.
Pass4sure Practical Labs are a reliable preparation tool that helps candidates pass their lab exams. Since all Pass4sure labs are filled with explanations and additional details, they can be used as exciting tutorials in which you will learn the concepts and scenarios tested during certification exams.
Pass4sure Practical Labs Features:
Allow for intensive lab exam training in the comfort of your home
Great way to boost your understanding of real life scenarios
Learner-friendly approach to troubleshooting
Guaranteed instant access
Comprehensive coverage of hardware and software usage
Pass4sure Practical Labs allow IT certification exam candidates strengthen their knowledge before IT Certification lab exams. Filled with realistic lab scenarios and to-the-point tutorials, these lab exam preparation materials from Pass4sure will help you get certified from the first try.