quide =1
Pass4sure Study Guides
Each and every one of Pass4sure Study Guides is designed with your needs in mind. They are created to bring candidates up to speed with their certification exam preparation. PDF Guides from Pass4sure exceed the expectations of learners as they pack tons of background information, explanations of concepts, details, additional facts and other aspects that help ensure you have no knowledge gaps as you approach your IT certification exams.
Pass4sure study guides are often bundled with Practical Labs and Questions, which not only helps you prepare for an upcoming exam, but also prepares you for the future work-related challenges.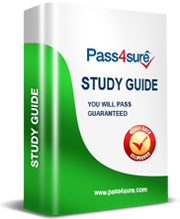 Pass4sure Study Guides Bring You the Convenience of:
Universally applicable PDF format which you can use anytime, anywhere, on any device.
Easy-to-understand language and explanations.
Fully corresponds with vendor blueprints and insider feedback.
Tons of lab info and practical tasks.
Results-oriented learning: lean exactly what you need to know to pass.
Combined with other learning tools, such as Pass4sure Testing Engine, our Study Guides allow for an excellent learning solution and are a great way to get comprehensive hands-on experience which you will benefit from on your exams, as well as at the workplace.